The age of the fingerprint scanner for unlocking phones may already be on its way out, if a new system developed at Yahoo Labs comes to fruition. The system, developed by Christian Holz, Senaka Buthpitiya and Marius Knaust, is dubbed Bodyprint and has already been tested on twelve participants with a high rate of success.
Bodyprint was primarily designed to use the input resolution of the touchscreen rather than a separate sensor. Different ways of unlocking the phone, such as ears and fists, were tested.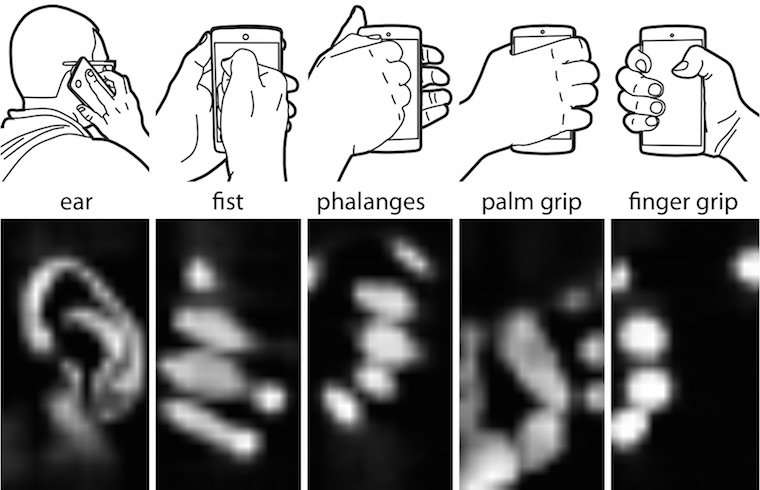 "While the input resolution of a touchscreen is ~6 dpi, the surface area is larger, allowing the touch sensor to scan users' body parts, such as ears, fingers, fists, and palms by pressing them against the display. Bodyprint compensates for the low input resolution with an increased false rejection rate, but does not compromise on authentication precision," the team stated on their website.
While the sample size for the participants is small, the results so far have been impressive. "Scanning users' ears for identification, Bodyprint achieves 99.8% authentication precision with a false-rejection rate of 1 out of 13, thereby bringing reliable biometric user authentication to a vast number of commodity devices," the team added.
This could be a positive, and low-cost, way forward for new methods of unlocking phones, without the added cost of installing a separate fingerprint sensor. As the team notes, "Due to their cost, capacitive fingerprint scanners have been limited to top-of-the-line phones, a result of the required resolution and quality of the sensor."
What do you think of this development? What body part would you like to unlock your phone with (keep it clean!)? Let us know in the comments below or through the usual social media routes.
[button link="http://www.christianholz.net/bodyprint.html" icon="fa-external-link" side="left" target="blank" color="285b5e" textcolor="ffffff"]Source: Bodyprint[/button]
Last Updated on November 27, 2018.